New report shines light on Illinois Early Childhood System
The research is extensive and clear: Quality early childhood programs can strengthen Illinois' current and future workforce, bolster crime prevention, and enhance national security. Such programs range from high-quality child care and preschool to key birth-to-3 initiatives, such as home-visiting services of "coaching" help for new and expecting parents. Unfortunately, Illinois' early childhood system falls shy of meeting the needs of children, families, and communities, with resulting consequences for our state's economy and public safety, not to mention our country's most basic security.
Early Childhood Educators Set Illinois Kids on the Path to Success, a new report from Council for a Strong America-Illinois focuses on one vital aspect of efforts to improve this picture. It notes that the most fundamental features of solid early learning programs include "highly-qualified staff who are well-trained both before and during their service and who are adequately supported and compensated." Yet in Illinois, child care teachers earn an average of only $28,730 per year and preK teachers about $35,840, compared with $65,790 for kindergarten educators. In birth-to-3 programs, the disparities are even more bleak.
Better compensation, support, and training are central to stabilizing the early childhood field and building-out a stronger system of birth-to-5 services, according to this report released by leaders from business, law enforcement, and the military. Program quality, access, and equity depend upon boosting this hardworking "workforce behind our entire workforce."
Fortunately, as Gov. Pritzker and state leaders call for expanding early childhood services, informed by the recommendations of a bipartisan commission, there are successes on which Illinois can build further. These include pandemic-era Strengthen & Grow grants to help child care centers and homes strengthen staff recruitment, retention, and compensation increases — an effort that Illinois should extend. Similarly, the Early Childhood Access Consortium for Equity Scholarship Program is a relatively new but significant collaboration between two- and four-year higher education institutions to grow the credentials of early care and learning professionals.
These and similar measures will be necessary to more concretely reflect the value of our early childhood workforce, placing its teachers and staff in a better position to put children, and our state, on the path to success.
The Foundation has recently developed an exciting internship opportunity in philanthropy. Working in partnership with other Chicago-based funders, the Foundation developed its internship to provide a unique experience for an undergraduate student interested in pursuing work in the nonprofit space after college. For one current undergraduate student, this ten-week internship will provide a unique look into the nonprofit sector and opportunities to learn more about the systems and policies within the education, early childhood development, and youth development fields.
For full job posting, click here.
In an effort to better support Black educators across the nation, Foundation grantee National Center on Teacher Residencies (NCTR) recently released its report, "Doing Better for Black Educators: Six Policy Recommendations for Improving the Recruitment and Preparation of Black Educators." The report, which includes practical policy recommendations and promising practices towards diversifying the national teacher workforce, builds on research NCTR has been developing in partnership with the Columbia University Center for Public Research and Leadership through an evaluation of its Black Educator Initiative, an effort designed to recruit, prepare, and retain 750 new Black teachers through NCTR's national Network of teacher residency programs.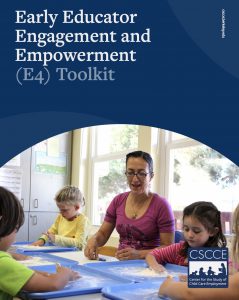 Foundation grantee, the Center for the Study of Child Care Employment, recently published the Early Educator Engagement and Empowerment Toolkit which aims to support early educators in their advocacy, power building, and stakeholder engagement. It features the latest facts and policy solutions about the ECE workforce that educators can use to build arguments for change, from the local to the national level.
In 2019, the National Center on Teacher Residencies (NCTR), a Foundation grantee, launched the Black Educator Initiative, an effort designed to recruit, prepare, and retain new Black teachers through NCTR's national network of teacher residency programs. A Foundation supported evaluation of this effort led to the development of a report titled "Recruitment and Retention of Black Educators: Promising Strategies at eight U.S. teacher residencies". The report highlights the successes of the Black Educator Initiative in recruiting and retaining Black educators and identifies promising practices for diversifying the national teacher workforce.